The 208-19 season is near its end for girls basketball. With only Central Noble still playing in the state tournament, now it's time to reflect on the players that made this season a special one in the NECC. Note: this is a very difficult list to get in because these are the best players in the NECC IMO for this season. That means there will be good players that won't crack the top 20. My list is based on not only generational talents of one player, but rather their offense and defensive productivity for one team that has made a significant impact on the outcome of conference games and playoff games. It's hard to do that with all 12 teams having players of this magnitude. For Honorable mention, every school will have at least one and up to 3 players in the honorable mention list. Again, this is my opinion so please don't take this too seriously because it's a fun way to look back at a great season even though CN is still in the running for another state title. Also, just because you're not in the top 20 doesn't mean I don't think you're a quality player because there are way more than 20 players that have these qualifications, but I can only fit 20.
Honorable mention
Lauren Leech Freshman Angola
Janna Fee Junior Angola
Sam Brumbaugh Junior Central Noble
Lydia Andrews Sophomore Central Noble
Anna Stayner Senior Central Noble
Mariah Hosted Junior Churubusco
Abi Erwin Senior Churubusco
Mckensie Rieke Junior Eastside
Paige Graber Junior Eastside
Sullivan Kessler Sophomore Eastside
Chloe Dell Junior Fairfield
Brooke Sanchez freshman Fairfield
Kara Kitson Junior Fairfield
Jada Rhonehouse Freshman Fremont
Samantha Kuhn Junior Fremont
Macayla Guthrie Junior Fremont
Lexi Baver Senior Garrett
Nataley Armstrong Freshman Garrett
Camden Bodey Senior Garrett
Tori Creeger Senior Hamilton
Makayla Mast Senior Lakeland
Isabelle Larimer Junior Lakeland
Beth Stroop Junior Lakeland
Alayna Boots Freshman Prairie Heights
Kyler Hall Junior Prairie Heights
Lauren Burns Senior West Noble
Angela Gross Senior West Noble
Tara Miller Seniors West Noble
Jensen Reynolds Senior Westview
Leanna Miller Senior Westview
20. Kayla Fenstermaker Junior Guard Angola
When you look at the stats, you're probably telling me 'how is she even in this list?' When things were going south for Angola in early December, Kayla was one of those players that really stuck out to me as the glue that gelled all the pieces together. She's only 5'6 and doesn't score a ton, but she is arguably one of the best defenders in the guard slot in the NECC and possibly in the area. How big was she in the playoffs? 16 points in the sectional title game vs Concordia definitely cemented that. Last season, she wouldn't even be in this list because of the players they had, but she definitely earns a spot here.
19. Sarah Duvendack Senior Forward Angola
A very underrated player for the Angola Lady Hornets program, Sarah Duvendack became a very important part of a stingy defensive group that led her team in rebounding, and was a solid perimeter player for the purple and gold. She was one of many players that complimented Angola's strength in numbers. They're going to miss her contributions to the program.
18. Myah Bear Junior Forward Churubusco
In amidst of a long, rebuilding season, there were some bright spots for this Busco group, and one positive comes from Myah Bear. Myah is not a player that jumps on every scout's radar, but this is an individual that typically boxes out well, plays great defense, and yes she can shoot a little. Without question, she was the one player that really stood out to me from this team. Busco will be glad to have her talents for another season, and I could see her improve even more as a solid 2-way forward.
17. Megan Godfrey Senior Forward West Noble
Here was one of the important pieces to a deep West Noble squad that was able to bring home a sectional title for the City of Ligonier. Godfrey not big for her being a forward, but she brought physicality, rebounded well, and she had a little bit of a scoring touch when counted upon. She like the other 5 seniors left her mark with the Chargers program and that's the one thing they can keep their heads high.
16. Kennedy Kugler Freshman Center Prairie Heights
One of the main pieces for the future of Prairie Heights Lady Panthers Basketball lies within their true freshman center. While she has had to make adjustments to the varsity game, it seems like she has adjusted quite well to the pace of her competition. In 2-3 years, we could see her as one of the conference's leading scorers and rebounders when it's all said and done. This is the kind of center, the Lady Panthers haven't had in years and that has helped them. Despite her team not accomplishing as much as they would've liked, progress was made and we shall see where she and her team will be at come the start of the 2019-20 season.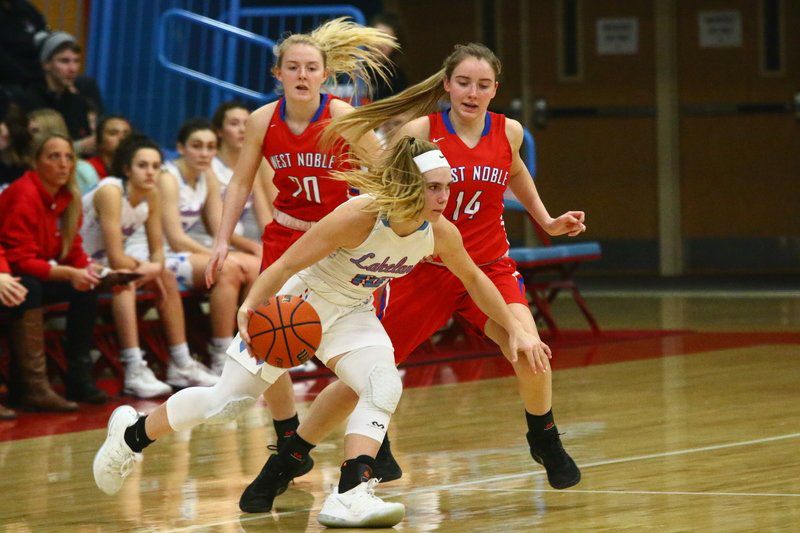 15. Keirstin Roose Sophomore Guard Lakeland
When this Lakeland player is healthy, she has actually been one of the better players in the NECC. She is one of several pieces that transformed Lakeland from 6 wins in 2016-17 to 15 this season. High IQ, good passer, pretty good defender, and has a lot of upside to be a more complete guard beginning next season as a junior. Roose, a 3-sport athlete, still has room to improve and staying healthy could lead to a breakout junior season in 2019-20.
14. Gloria Miller Sophomore Forward Westview
One thing to be excited about Westview besides the fact next year's freshman class looks stacked is the progression of forward Gloria Miller. Without her work in the paint, I don't think Westview would have had the winning season they had there. Great rebounder with a lot of hustle and obviously pretty gifted post-player. This is a 3-sport athlete that already looks poised to break out next school year if she can stay healthy though she's been pretty fortunate this year compare to her freshman year (I guess you can say that for anybody). With some freshman coming in 2019-20, Westview could find themselves back into NECC contention a lot sooner than people may think.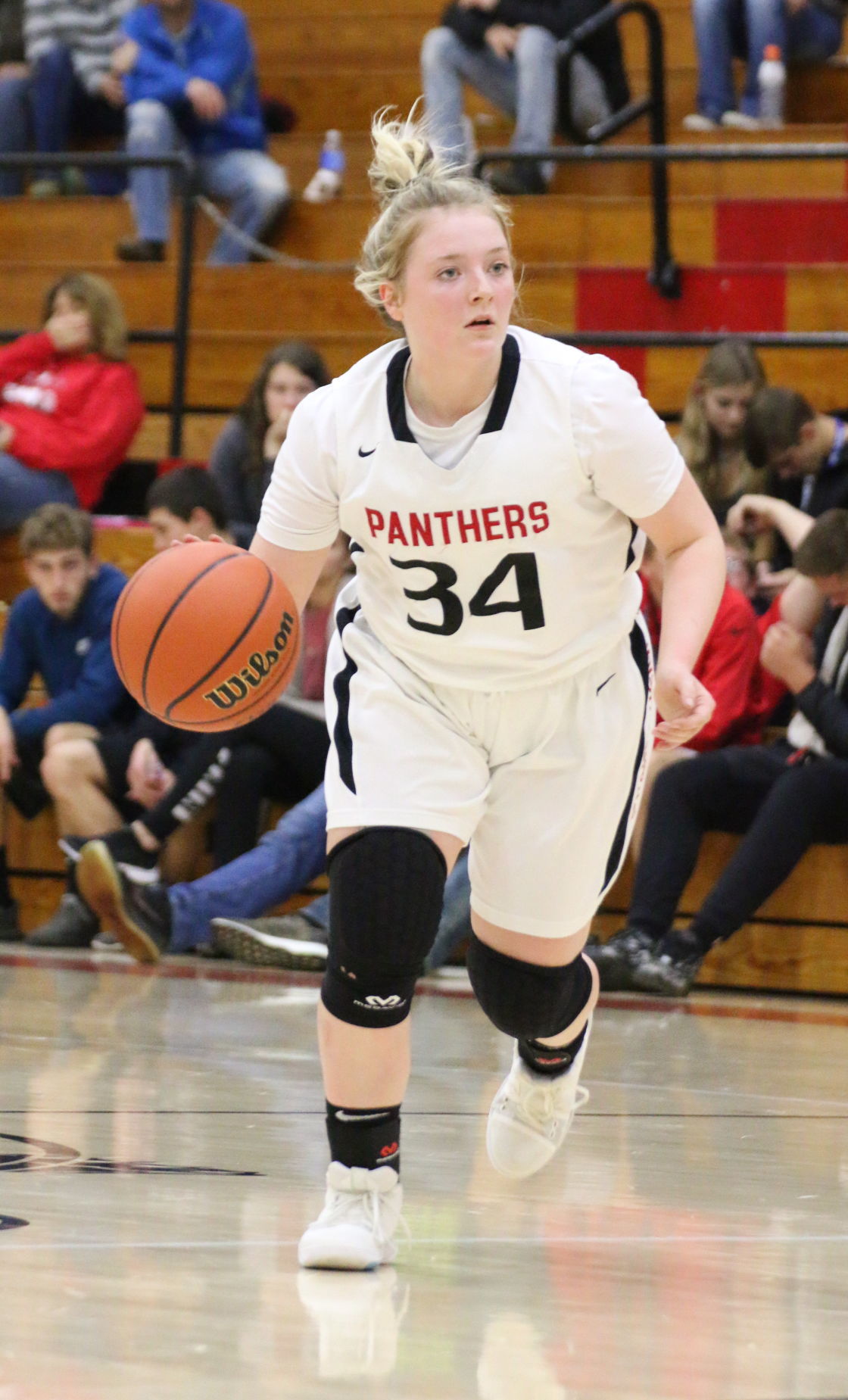 13. Alexis German Junior Guard Prairie Heights
Alexis has often been overlooked because of how deep the backcourt talent both the NECC and the Fort Wayne area has to offer. But, nevertheless, she has been one of the best players in that position in the conference. Pretty composed with the ball, good passer with a nice scoring touch, and despite her height she finds ways to create her own shot. With some improvements in the offseason, next season could be her best.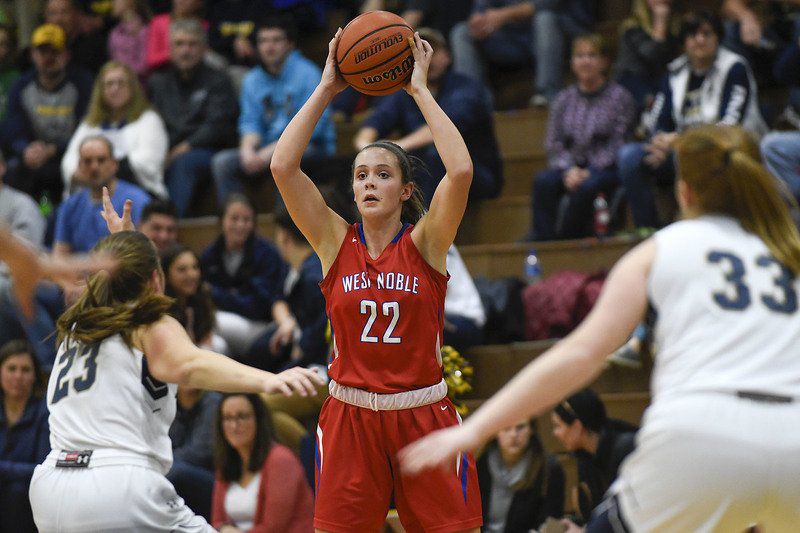 12. Madison Schermerhorn Senior Forward West Noble
If this was volleyball, she would have been number 1 without question. Offensively, her scoring went down, but all other aspects of her game didn't. She was still that dominant on both ends even when she isn't scoring at a rate she was doing for the first couple seasons. However, a deep senior class and some nice undergrad talent will do that. Fittingly, one of the school's best all-around talents made the basket to clinch a sectional title and that's part of the reason she's going to play volleyball at Purdue.
11. Bella Dangerfield Senior Guard Fremont
A few years ago, I don't know if many outsiders would know the kind of player she would become for her last 2 years. Her ability to read plays and power her way to the glass is what has made Fremont a mid-range contender for the past 2 seasons. Dangerfield was huge in the sectional scoring 12, 15, and 18 respectively before dropping 17 in the regional semis vs a scrappy Pioneer team. Very athletic, grabbed quite a few boards, decent job running the offense, and just a solid leader for the young and athletic Lady Eagles. That is why she is just shy of the top 10.
10. McKenzie Casselman Senior Guard Garrett
Garrett's all-time leading 3-point scorer and one of the program's 1,000 point getters didn't have the dominant season like she had for a span of 2-3 seasons. However, she did play well enough to make a significant impact on a young Garrett squad that won 13 games this season. Outside of Sydney Freeman, she was the NECC's most feared perimeter scorer and she still was able to get up on the court and facilitate the offense as a point guard. Casselman's leadership along with the other seniors set the standard for the next Garrett players to perform at a high level.
9. Faith Owen Freshman Guard Garrett
SHE'S A FRESHMAN! Ladies and gentlemen, Faith Owen can play basketball. Faith is already a top 10 player in our conference and it's kind of scary to think how much better she could actually be. Fast, moves the ball far better than a typical freshman player, and a great ball facilitator. I have a feeling we are going to see her name in newspapers and shown in highlight reels for the next 3 years.
8. Lilly Mast Sophomore Guard West Noble
Here's a player that greatly improved from pretty much being a JV player last year to the team's leading scorer as a sophomore. High IQ player that facilitates the ball well, strong perimeter shooter, and plays with a lot of grit for being as talented as she is. She has potential to be even better and stronger next season as a junior, and the potential is on the horizon for her. Mast will be vital to her team for the next two seasons as they'll transition from the winningest class in school history.
7. Reace Peppler Senior Guard Angola
Words cannot describe how huge this senior was for the Angola Lady Hornets. When the team was struggling to find their game, Reace was one of the few players that stepped up big for Angola. How many times did she make big threes or the big baskets? How many times did she make big defensive stops? If that's not one example of pure leadership, I'm going to have to look extra harder to find another one outside of Central Noble. I saw potential with her from the very gecko since I know she is this talented from soccer and softball. She will be missed by the Angola community.
6. Bridgette Gray Sophomore Guard Central Noble
This Cougar wouldn't even be in this list let alone in the top 10 had I done it last season. I felt like despite the postseason she had, I still needed to see some improvement from her before I can see what she could wind up being. Now, she still has those moments where she would struggle, but she has made that up with some big time performances such as the games vs Fairfield and Bremen and her 26-point game vs Whitko in the sectional semis. Bridgette has been so important to solidifying her team's scoring depth and that's part of the reason for her team's undefeated season as they approach semi-state at Logansport. Again, another high IQ player with a ton of speed, athleticism, good passer with the ability to grab boards, and she is starting to become a huge perimeter threat. Gray will be vital to her team's success in the post-Syd/Meleah era.
5. Hanna Knoll Sophomore Guard Angola
You KNOLL who also can play basketball? Hanna Knoll. Listen, I've praised her a bunch since I saw her play as a freshman, and that is no exception this season. She had 17, 13, and 18 respectively in sectionals, which doesn't include her 21-point performance vs Lakeland. She had 13 big points vs New Castle, and despite her team coming up short to Marion, Knoll had a career high 28 points against a huge Marion team. Outside of Syd, Knoll is probably the fastest player in the entire NECC, maybe in the area. Another high IQ player with a lot of offensive skills on the offensive side, but she is equally as good on the defensive end. Boy, this kid has some hustle with her mad determination to dive for loose balls or rack a bunch of steals. This kid is special, and we haven't seen her true potential yet. Future looks very bright for Angola Basketball.
4. Ashya Klopfenstein Senior Center Westview
Man, I'm going to miss this Westview player play… She was an absolute matchup nightmare, but that was because of her strength and mobility to drive to the paint. She was definitely one of the best post players in our area with a high basketball IQ, outstanding rebounder, and a tremendous post player for the 1,000 point scorer. She was in the top 5 in scoring and rebounding, and led the NECC in blocks. Boy, was she also big on the defensive end when her teammates needed her most. She was a major factor for her team's success in the post-Grace Hales/Maria McCoy era, and she will be missed by the Westview fans. However, the future looks pretty bright for this program yet again.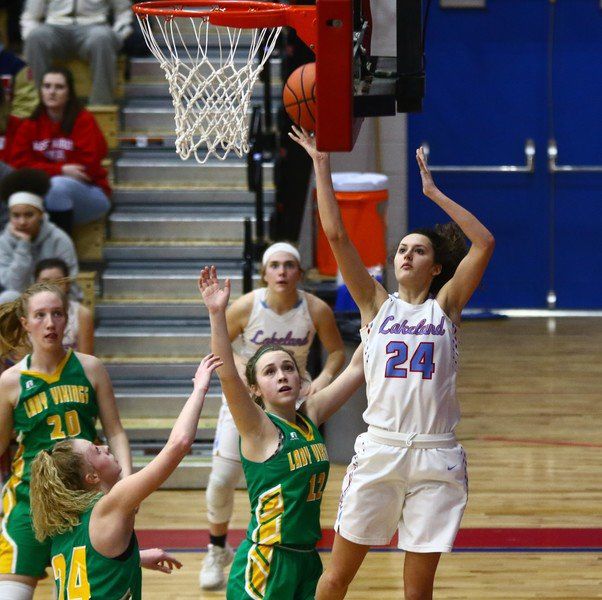 3. Bailey Hartsough Sophomore Forward Lakeland
Since the moment she burst onto the scene, she has been a walking bucket. That's the best compliment I can describe her: a scoring machine. A very productive two-way forward that is progressing well beyond most players in her class. Hartsough was mentioned plenty of times for the performances she had this season such as the 21 and 28 point games vs Wawasee, her 31 point game @ Prairie Heights, and her 29-point game @ West Noble. This past season she led the entire NECC in scoring, and the fact is she still has room to grow as well. Wait, she can actually be playing better than where she's at? Yes. And who knows maybe Lakeland can reach greater heights next season. Watch out Indiana. She's a good one for Laker Nation.
2. Meleah Leatherman Senior Center Central Noble
When I first heard about her, I didn't think I would be discussing the career this player has been having 4 years from now. I don't even know where to start with this senior. She has not only been the best post player in the conference, but arguably one of the best in the state. Her ability to score at will with her exceptional IQ (even from the perimeter), her knack for fighting for rebounds, her relentless ability to get stops and make plays even when she's not playing at her best, drawing fouls and making free throws, her ability to help her teammates get the best chances to win most nights, and her mental toughness is what amazes me about this kid. She has been the anchor of this mighty Cougar defense all 4 years, and she is without question the school's greatest center because I don't ever recall a center from CN that was this dominant. On top of her being the program's all time leading rebounder and second in scoring, a great volleyball player and high-jumper. Just as she and Syd are almost done as Cougars, CN might not be done yet in terms of more talent coming to the program as next year's freshman class could have some good ones making an immediate impact on the culture of Central Noble Basketball.
1. Sydney Freeman Senior Guard Central Noble
There are a million things I want to compliment about this kid's game… I can talk all day about how great of a basketball player and person she really is. But, in reality, her game does all of the talking. Outside of Madison Layden of Northwestern, Syd is the greatest girls basketball player I've ever seen. She is absolutely a God-given guard with one of the highest basketball IQ's in the state. She is one of the very few players that can create plays by herself regardless of angle, the coverage, or contact. Heck, there are some plays that I don't know how she made them other than just saying "Only Syd could make that shot or that play". Sometimes when she fools certain players guarding her, I might have been lucky to catch one of them reacting to her dazzling moves with a grin, a smile, or yet the look of "Man, I got roasted by Syd again." She has exceptional court vision who knows exactly where and when to pass to her teammates. 9 times out of 10, she's going to make the best decisions she can for her team, she's extremely athletic, plays outstanding defense, and she is one of the hardest working players I've ever seen. She's a Lethal perimeter shooter and the toughest baller I've ever watched. She is so talented that she could score 30+ a game at will, but what impresses even more about her is that she is all about the team and that's what I truly admire about her. If her team doesn't win state, her personal awards won't do as much good to her as being a state champ because it's about what's best for the team. The McDonald's All-American and the school's all-time leading scorer (third in Noble County history) to name a few is even more impressive in the playoffs where she has spent most of her playoff career dominating her opponents. Syd Baller as I call her on occasion has the knack for the clutch and that's what makes her special. It'll be very difficult to find that kind of talent from a school like Central Noble for quite a while because it's so rare even bigger schools can't find generational talent of this level often either. Honestly, I'm truly going to miss her and Meleah play when their senior seasons end, but it's the memories from the years leading CN to uncharted heights and their individual legacies that surely won't be forgotten.